Occlusion: Basics & Beyond
The most tangible, real-world and comprehensive occlusion training on the planet.
CPD - 34 Hours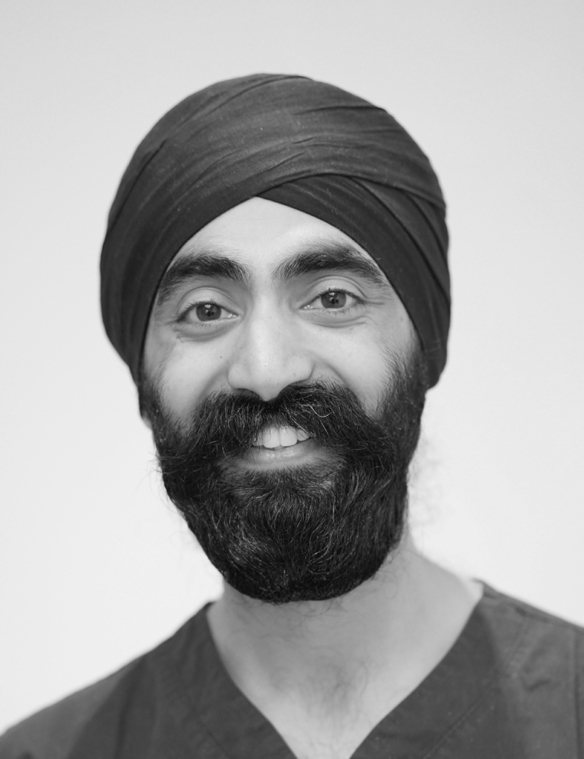 Jaz Gulati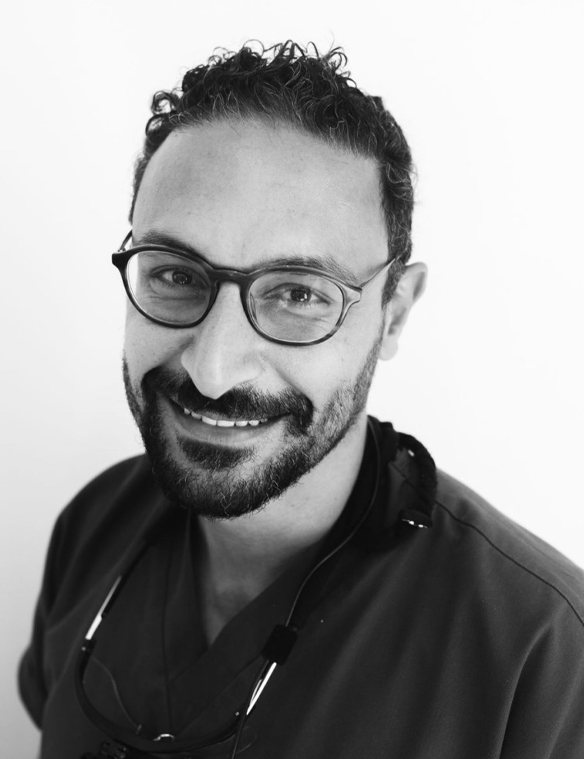 Mahmoud Ibrahim
What's Inside?
Download the OBAB Prospectus to learn what's covered in the online course.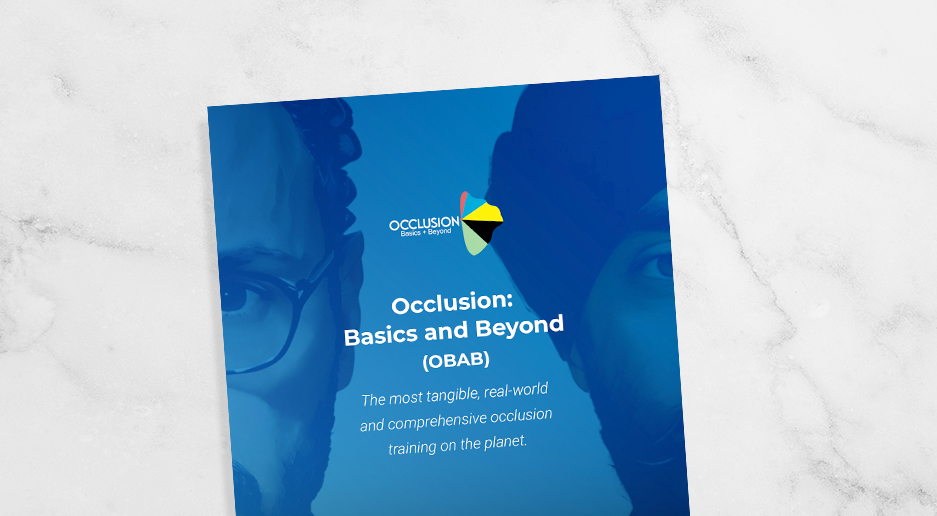 Unveiling the Dark Art
"Occlusion is dark art!"
It doesn't have to be that way.
"Can someone please explain occlusion to me like I'm five years old?"
Well, that would be patronising. But with OBAB, we've certainly broken occlusion down with visuals, examples, and analogies to help you finally make sense of it.
"I just don't get Occlusion – it seems needlessly complicated!"
We hear this a lot. And we agree—it doesn't need to be complicated!
Occlusion for the Real World
OBAB was developed to break down this seemingly complex topic in an understandable way that you can easily implement in daily practice in the real world.
This is the knowledge that occlusion camps don't want you to know about—because the on-demand, online course everything away without breaking the subject up into multiple courses, continuums or pathways.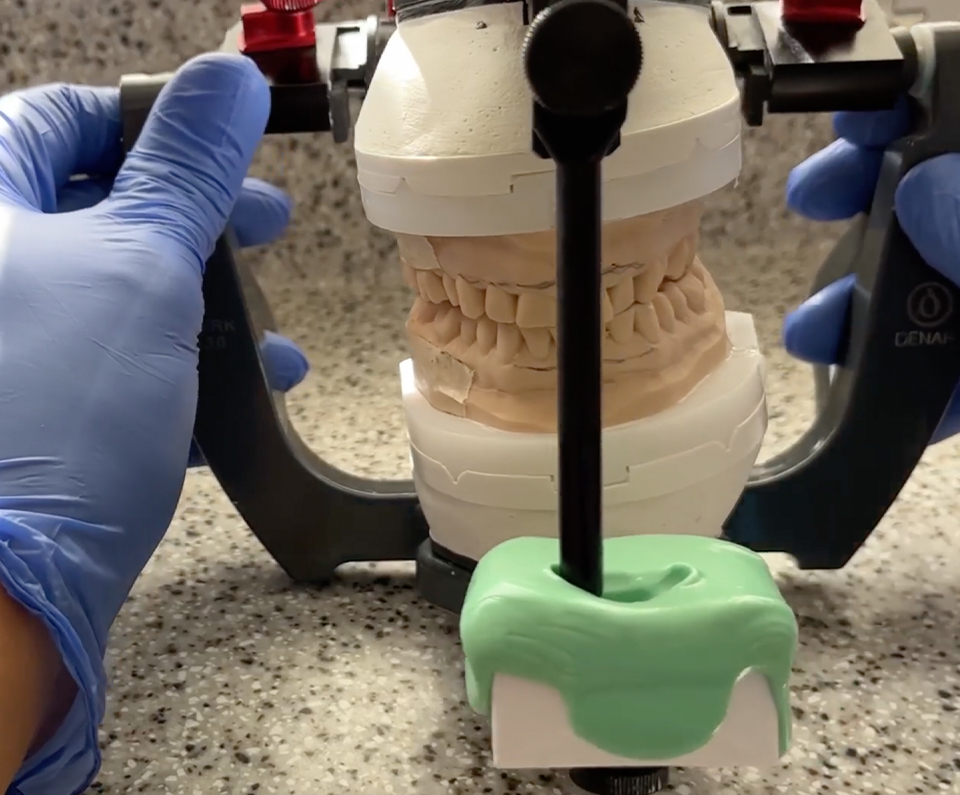 OBAB Bonuses
Your Bonuses
*OBAB Starter Kit
Shipped to your practice worth £97 (read below to see what's inside)
*The OBAB Hardback Textbook
The occlusion 'bible' is packed with all you need to know. (Worth £399)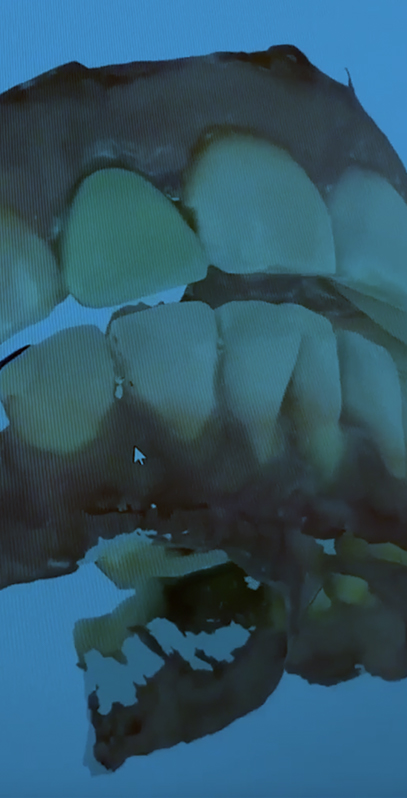 Why Are You Here?
You are here because you decided that you finally want to understand Occlusion in a way that is practical, tangible and applicable in daily practice – and you have already decided that you want Jaz Gulati and Mahmoud Ibrahim to teach you.
Aside from the fact that they are incredibly good looking, you have come to the conclusion that these are two educators that really care about you being able to climb a mountain and exclaim to the world:
'I get it! I finally get Occlusion! Why didn't anyone else explain it this way before?'
You will not find course providers like Jaz and Mahmoud who will get their pom-poms out and do a little dance every time you finish a module and peel away another layer of unnecessary complexity when it comes to Occlusion in daily practice.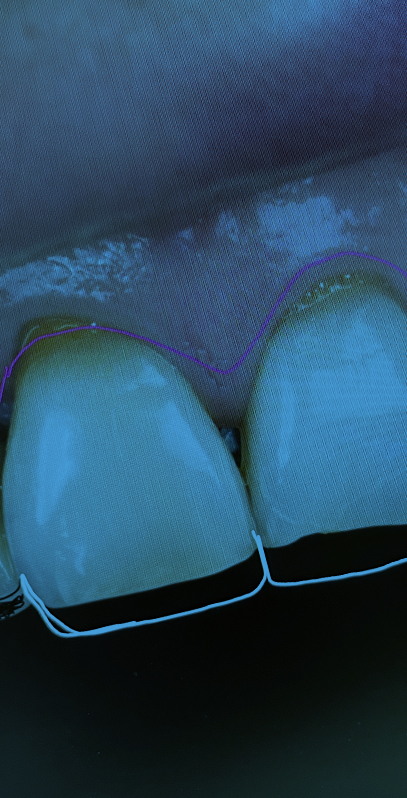 "The Best Occlusion Course on the Planet"
We've attended occlusion courses that taught techniques and tools that can only be applied in niche settings.
But there's nothing worse than spending your hard-earned time and money on a course, only to realise that you can't implement anything because you don't have access to an 'Occlusomajiggy 3000' or the 7th Generation Gold-Plated Articulator.😉
You don't need fancy gadgets to implement the knowledge you'll pick up from OBAB.
OBAB is quality occlusion training for the masses. You don't need Modjaw, T-scan, JVA, TENS or EMG data to deliver comprehensive dentistry. While these are all technologies to aspire to, you need solid foundations first. That's where OBAB comes in!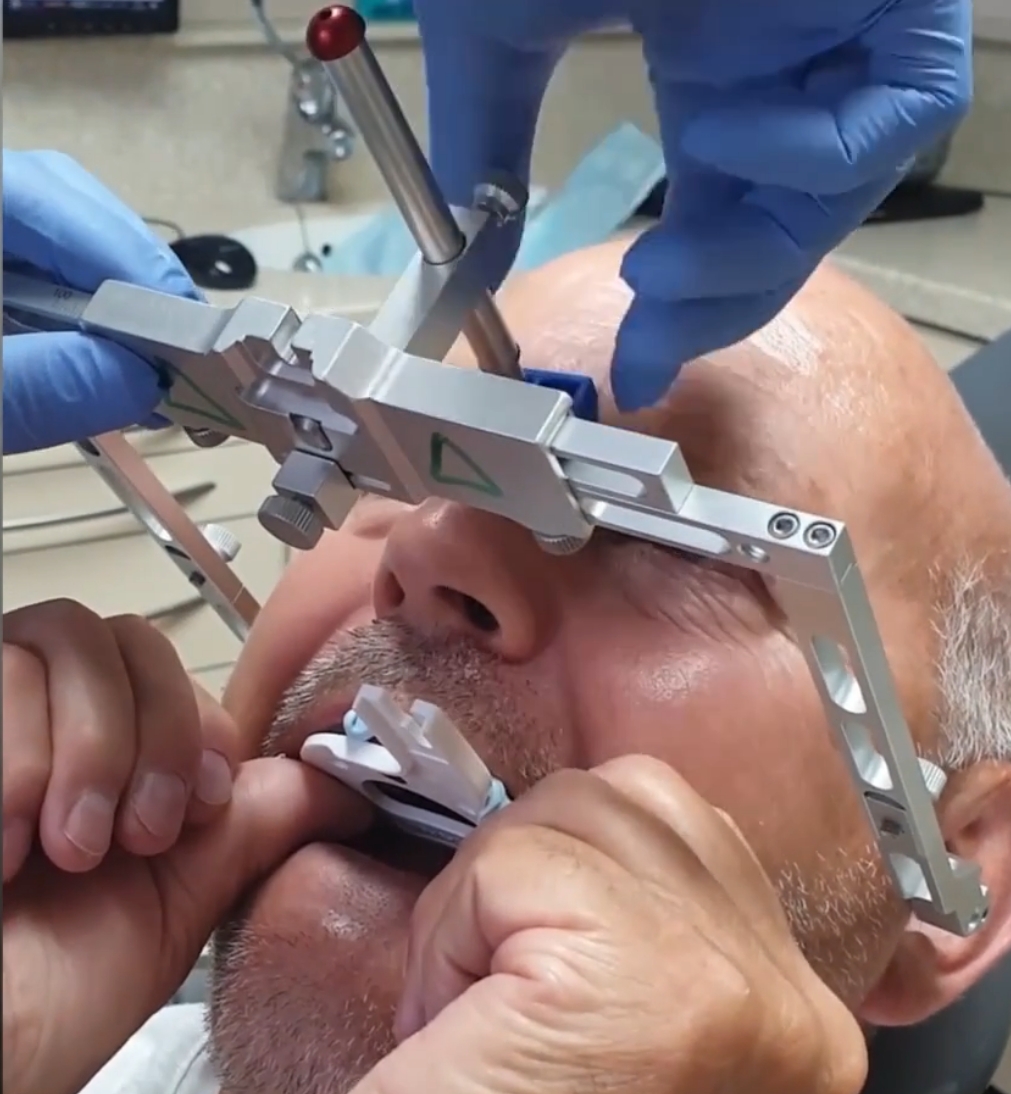 Meet Good Cop, Bad Cop
To thrive with OBAB, all you really need is articulating paper, a leaf gauge and the burning desire to move away from single-tooth dentistry (although we cover single-unit occlusion in single units in great depth!) and start having more of a positive impact on your patients.
"But I need to buy a face bow and articulator, right?"
Mahmoud Ibrahim will teach you everything you need to demystify face bows and articulators, while Jaz Gulati will show you every cheat code on the planet to avoid them!
Say 'NO' to dogmas.
Say 'NO' to confusion.
Say 'YES' to OBAB!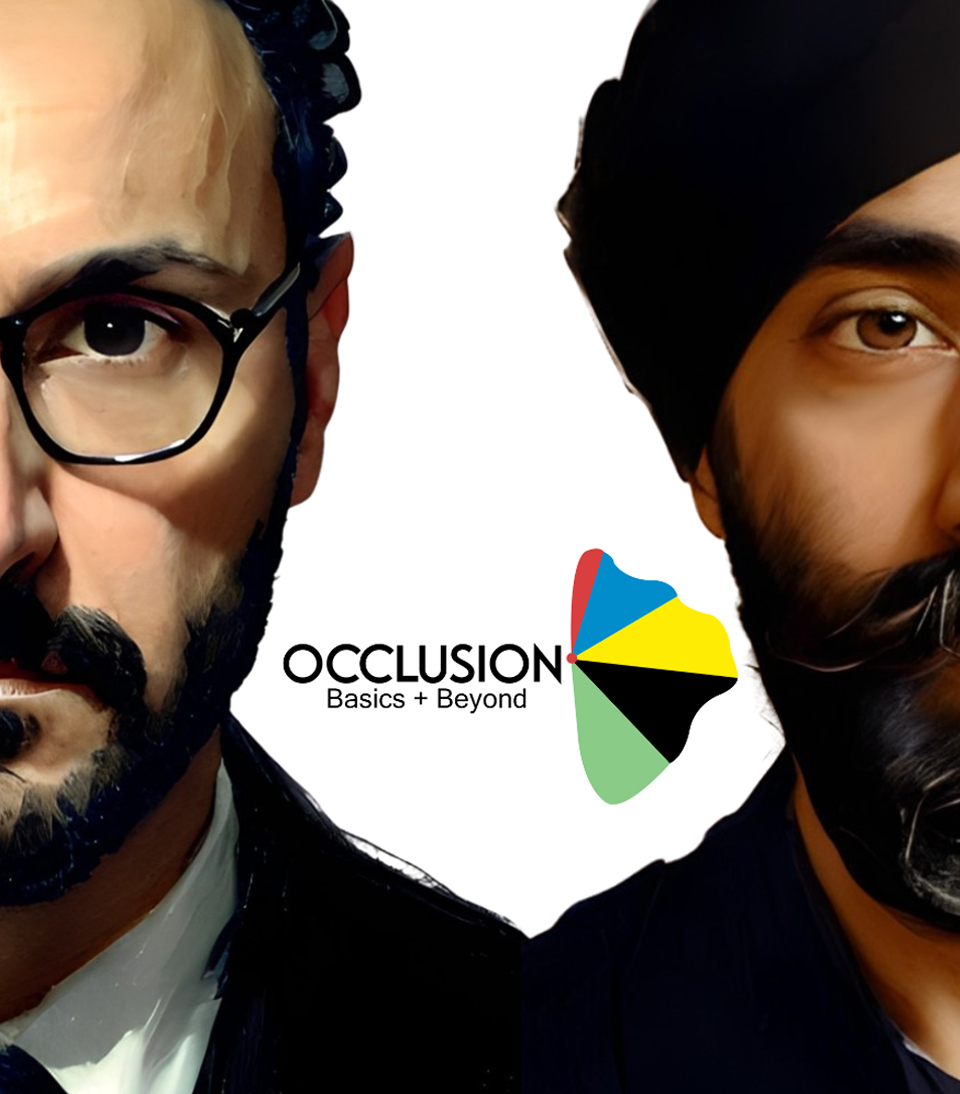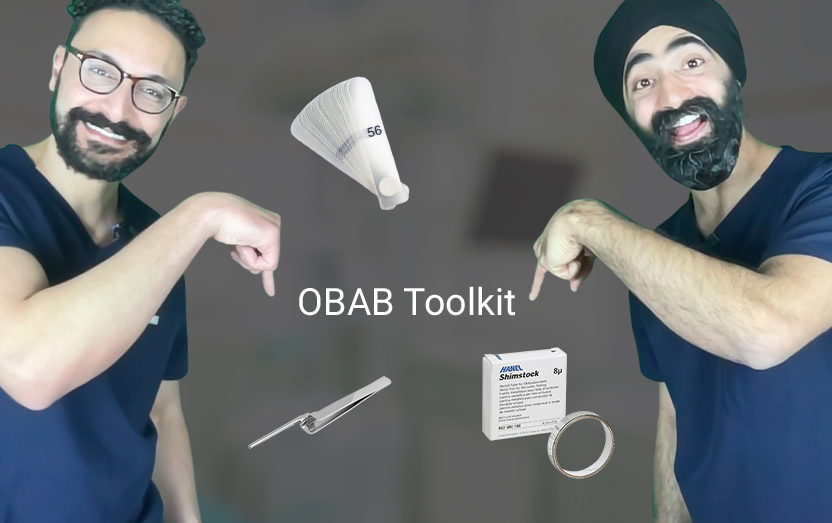 OBAB Toolkit
Worth £97
Includes essential tools you need to get started – there is nothing worse than gaining new knowledge and not being able to implement it! So we packaged this together for you:
An autoclavable Huffman Leaf Gauge
A pack of 8 microns Hanel Shimstock Foil
A little branded gift from us
Postage and Packaging included – wherever you are in the world!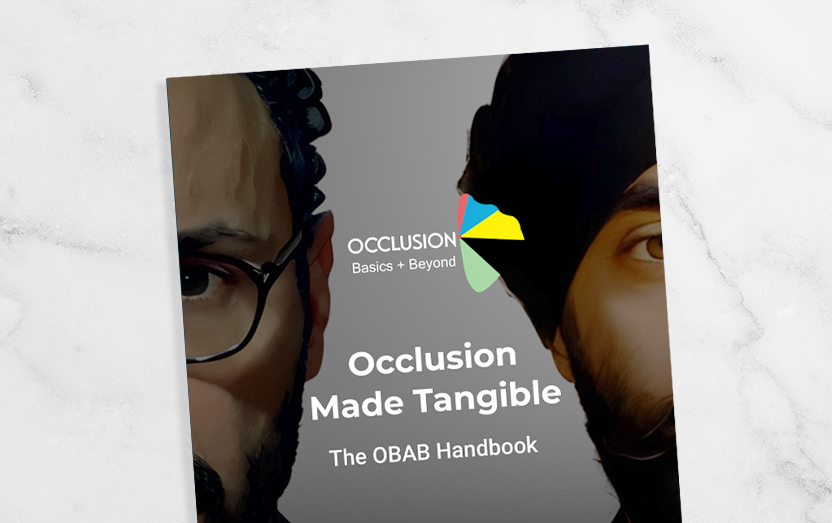 The OBAB Hardback Textbook
Worth £399
This is more than just a transcript of the course. The book itself is a powerful learning resource and a companion to the online lectures and videos. We refer to the book for extra content and cases that you will not find in the online videos.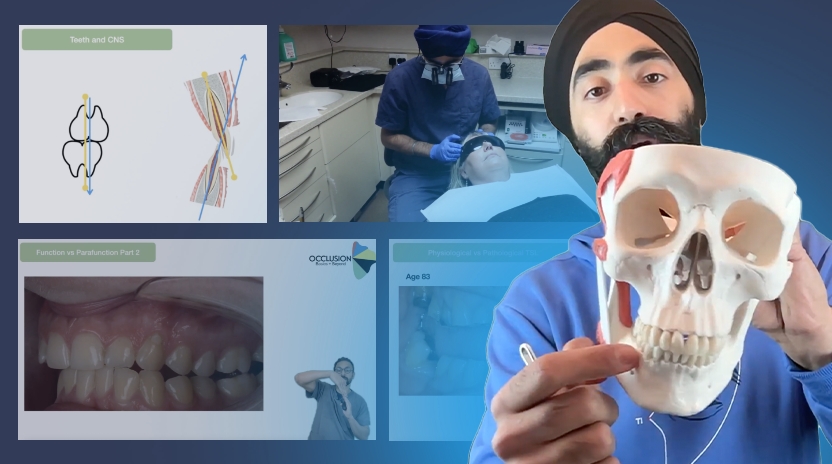 Module – 1
Occlusal Foundations
You will understand the difference between Function and Parafunction, as well as Anatomy and Physiology explained to you in a way that actually makes sense and is CLINICALLY relevant!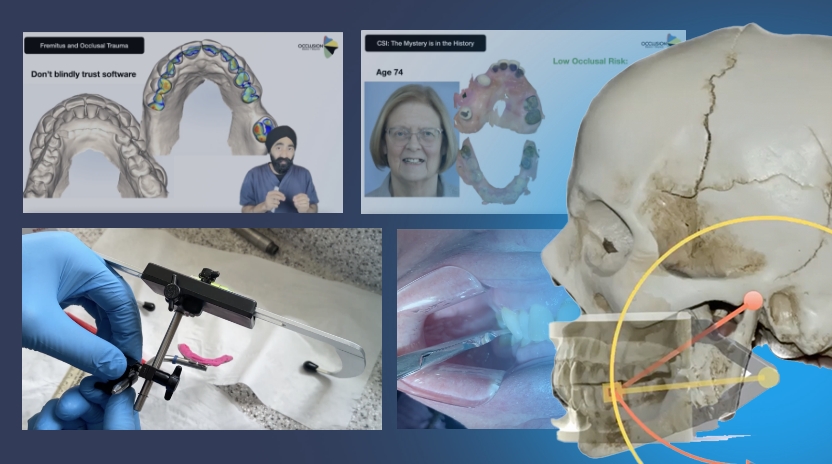 Module – 2
History, Exam and Records
You will learn how to do a basic and a comprehensive Occlusal exam (and know when and why to use each type of examination) – occlusal records will be demystified. We use 4K loupe-mounted camera video footage so you to see views that are even better than 'over-the-shoulder'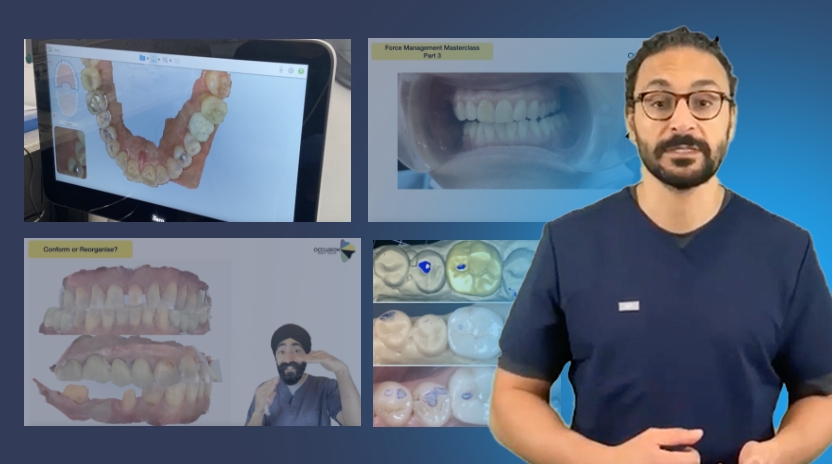 Module – 3
Risk Assessment and Planning
Find out which patients are high risk and how to improve the magic word: 'predictability'. This module features the 'Force Mitigation Masterclass' and 'Play Your Bite Right – Conform or Reorganise?'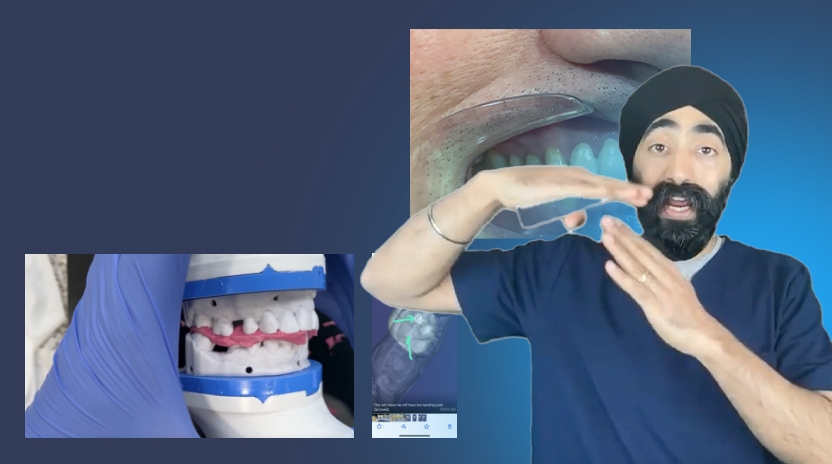 Module – 4
Conforming and Protecting
Yes, that's correct, a WHOLE mini-course on how to conform PROPERLY – because most of our daily bread and butter Dentistry is working WITH the patient's existing Occlusion. As well as Conforming, you will also learn the hidden secrets to 'idealise' the occlusion.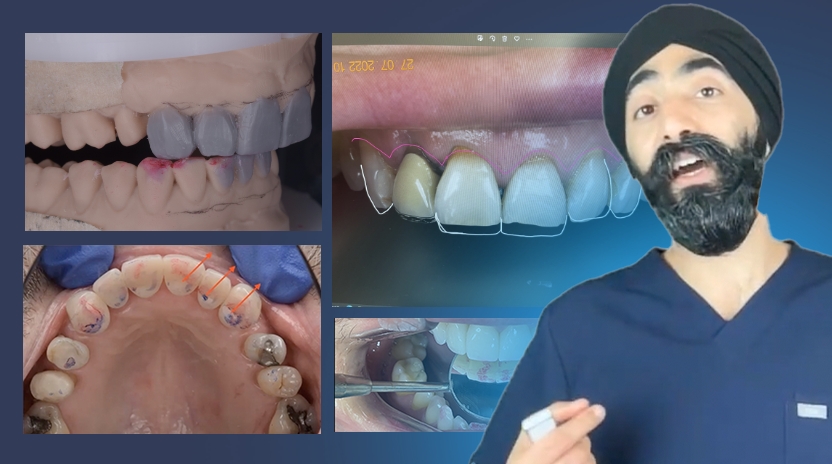 Module – 5
Re-Organising and Beyond
Most Occlusion courses focus on Rehabilitation and Reconstruction of the worn dentition and raising OVD. If that's all you want, we've got you covered. You will learn to carry out a comprehensive assessment all the way to fitting full-mouth cases, with every 'dot' and every 'line' shared. We have a wide variety of real-world rehabilitations with: composite, ceramic, bridges and partial dentures at increased vertical dimension.
Frequently asked questions
When will my starter kit arrive?
Your kit will usually be posted once you've submitted your delivery address details. Please allow 2 weeks for postage (especially if outside of Europe).
I'm in the USA/Canada/Australia/New Zealand/Taiwan/UAE/India or anywhere else in the world - will you post me a starter kit and a book?
Yes! We welcome delegates from all over the world. You'll be pleased to know there is no additional charge for international postage.
Our courses are truly international.
The timeless principles of Occlusion can be applied from Texas to Taiwan, or anywhere in between. All you need to access the course is the internet.
How long do I get access for?
You get access to the course for 12 months.
There is a charge of 399 GBP per year for access after that – but that is entirely optional, and you can decide at the end of 12 months whether you would like to continue your access. This is not an automatic charge, it would be manually done by you if you choose. Rest assured; we do not store your payment details.
'Very nice! How much?'
If you read that in "Borat voice", you're so cool!
The course fee is 1995 GBP, which is approximately 2400 USD.
That's outrageously good value for a course of this calibre, offering 30 hours of CPD, and we promise to keep adding content and cases. This includes the entire online course, starter kit, and book.
Is there a payment plan?
There is a 3-month payment plan available if you would like to spread the cost of this course.
Is this suitable for all Dentists and Specialists?
Regardless of whether you are a general dentist, Orthodontist, or even a Prosthodontist in your early years – OBAB will start from the very foundations of daily Occlusion and build you up. Many occlusion courses teach you some of the "how" of occlusion, but there has never been a course that can help you understand the "why" like OBAB. And once you understand the "why", you can make the "how" work for you however you want.
I am a Dental Therapist - is this course for me?
There are plans for a bespoke Occlusion for Therapists in the near future – the original flagship OBAB course is geared more towards practicing Dentists and specialists.
Is the course really 34 hours?!
Yes! I know, the course packs A LOT of information into bite-sized chunks. It delivers this all in an engaging way with challenges and quizzes to enhance your learning.
You will love the myriad of case examples showing various real-world clinical scenarios on all types of occlusions:
Post orthodontic patients
Patients with missing teeth requiring partial dentures
Patients with limited space and limited budgets
Simple single-unit onlays
Full mouth rehabilitation in ceramic
Localised anterior tooth wear patients
Patients with cracked teeth
Patients with compromised canines
Lots more real-world restorative scenarios
Module 4 is our main module – it is all about clinical applications of daily Occlusion in basic and advanced conformative Dentistry.
In Module 5 we go 'Beyond' and show protocols and considerations for bigger cases that require a reorganised approach.
What makes OBAB unique?
We are spoilt for choice when it comes to providers of occlusion training and big occlusion camps.
Why should you choose these two British guys who seem to have a sense of humour?
A. The course is delivered in an engaging way – packed with challenges and quizzes. No more falling asleep during Occlusion lectures!
We prefer teaching Occlusion through cases and real-world concepts rather than talking about the nuances of mechanoreceptors.
If you are a visual learner and enjoy analogies, then OBAB was made for you.
B. Mahmoud and Jaz deeply care, on a personal level, about your success.
We will engage with you on the discussion sections under every lecture and the secret delegate-only Instagram account (oops, did we let that one slip?!).
C. We will hold your hand when you need us.
How many Occlusion courses have a dedicated case forum where you submit your photos and queries?
As part of this pre-launch deal, you get one fully mentored case with us, included. We will support you via our bespoke platform, helping you with every step of a case of your choosing, right from the start till the champagne-popping end of the case.
This really puts OBAB in a different league.
We're not a 'wham-bam-thank you ma'am kind, of course.
We've got your back!
D. The original visuals and close-up videos we have of actual restorative dentistry – filmed during the REAL-TIME APPLICATION of our occlusion principles is world-leading.
What are the Learning Outcomes?
Wow, you're so formal!
Ok, tiger, here you go:
This course is worth at least 30 hours of Continuing Professional Development credits.
Aim
The course will provide the dentist with a risk-based, structured approach to the assessment and management of occlusion in every day practice. There is emphasis on pragmatic applications of Occlusion, from very basic restorations to full-mouth ortho-restorative cases.
Objectives
To understand the principles of occlusion in relation to everyday dentistry.
To evaluate the difference between function and parafunction, with careful consideration of their 'envelopes'.
Revise the anatomy of the masticatory system as relevant to every application, both simple and complex, of dentistry.
To be able to perform a pre-restorative assessment of occlusion so as to achieve predictable restorative results.
To be able to discern when to conform and when to reorganise the occlusion – and recall the step-by-step protocols for each approach.
To be able to troubleshoot occlusal problems and compromises on single-unit restorations.
To be able to use facebows and articulators in practice, as well as learn when alternative records can negate their need where appropriate.
To be able to assess, diagnose and treatment plan for tooth wear cases of all types.
To be able to apply the principles of force management in the waxing up and adjustment of restorations in static and dynamic occlusion.
Learning Outcomes:
Outcome A – Effective communication with patients, the dental team and others across dentistry, including when obtaining consent, dealing with complaints, and raising concerns when patients are at risk.
Outcome C – Maintenance and development of your knowledge and skills within your field(s) of practice.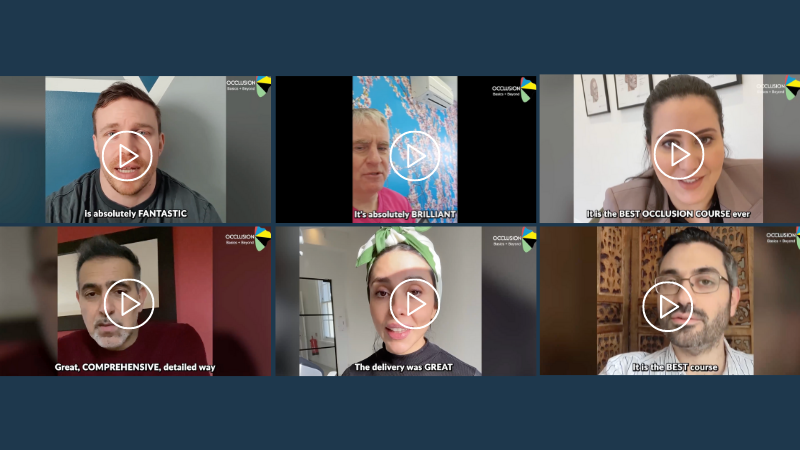 This is what our delegates have to say who have taken the OBAB course for a "test drive".

We believe its the best occlusion education on the planet and our delegates couldn't agree more…
Browse Our Gallery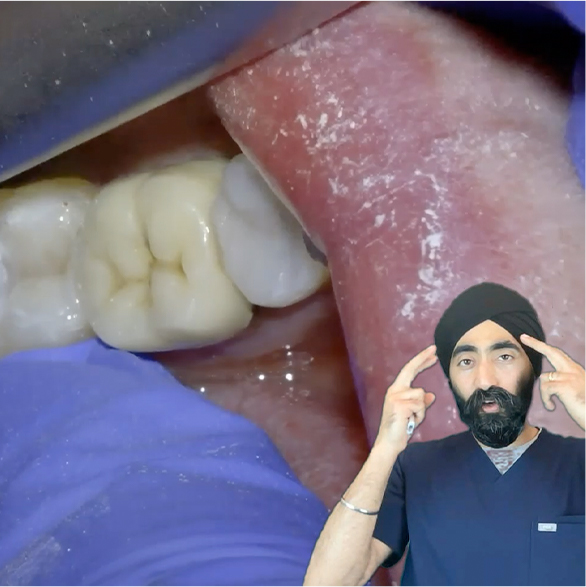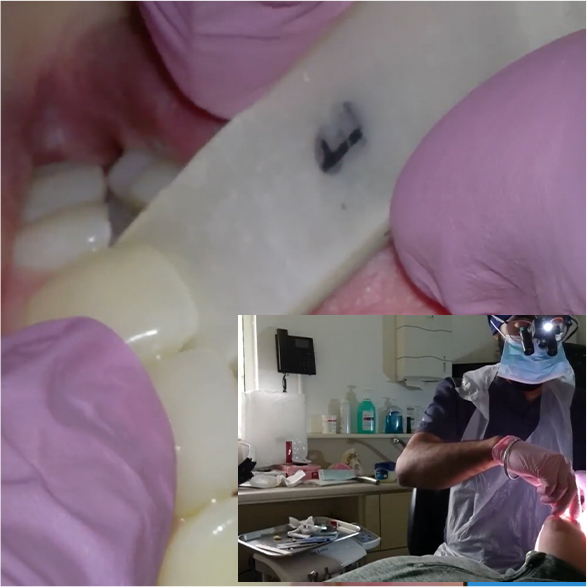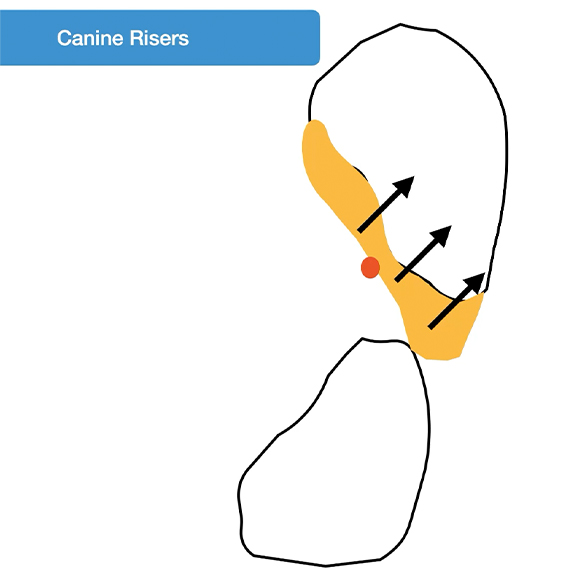 Meet the lecturers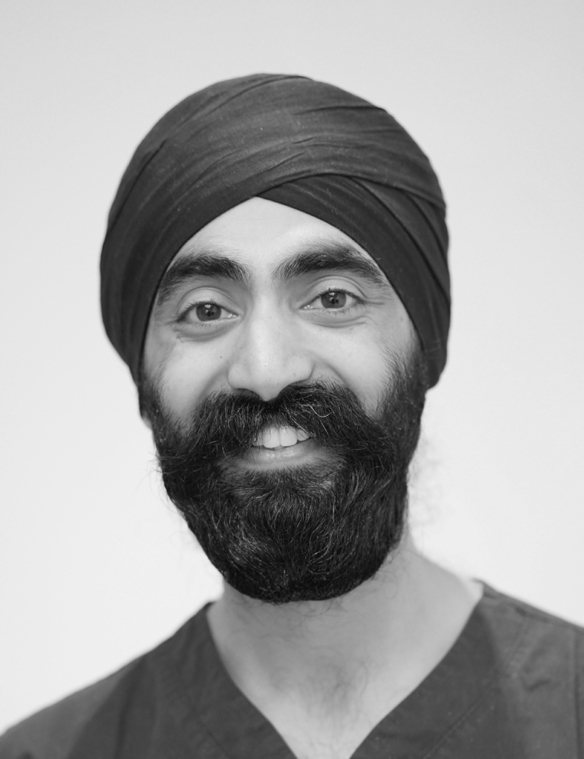 Jaz Gulati
Jaz Gulati is a General Dentist with an interest in Ortho-Restorative Dentistry, Occlusion and the conservative management of Temporo-mandibular Disorders. After qualifying from Sheffield University with Clinical Distinction in 2013, he completed Restorative DCT posts in both Guy's Hospital and Charles Clifford Dental Hospital.
He is a National co-lead for Dentinal Tubules Study Clubs and loves to promote learning. Jaz is an 'Occlusion Geek' and lectures on the 'Real World Occlusion' and Dental Splints. He is the enthusiastic host of Protrusive Dental Podcast which is listened to by Dentists in over 150 countries.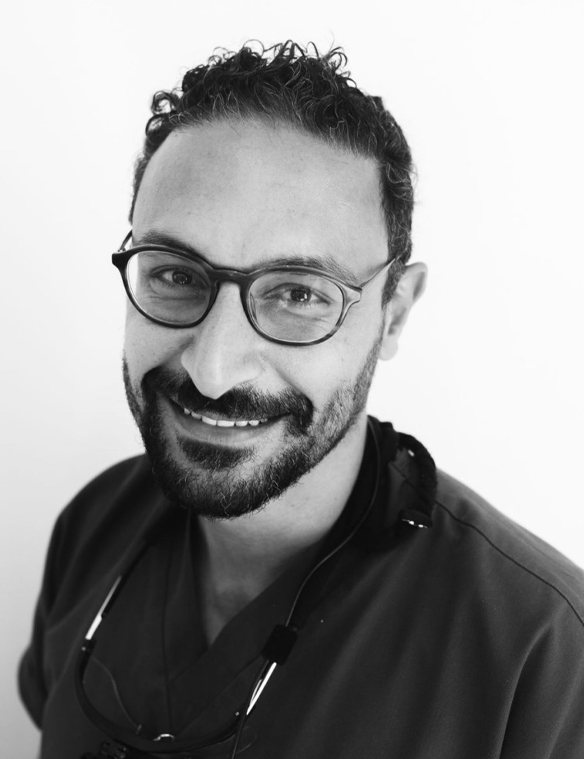 Mahmoud Ibrahim
Mahmoud Ibrahim is a General Dentist, with a Master's degree in Restorative dentistry. His clinical interests are in Reconstructive and Aesthetic Restorative Dentistry, Orthodontics, and Occlusion. He graduated from Manchester University in 2005, and went back to Manchester to complete his Master's Degree, which he obtained (with Distinction) in 2017.
In the many years since graduation, Mahmoud discovered a passion for Occlusion, and is a disciple of many occlusal schools of thought. He has now had the time to formulate his own thoughts on the topic, which he brings to life when he lectures on 'Real World Occlusion' with Jaz Gulati.